In this post, we will talk about how can you create a classroom with custom content. This is a useful feature of BSD Online designed to allow teachers to create their own custom lessons and unique learning experiences.
You can use this feature to add custom contents like Info Step, Video Step, and Quiz. You can also add a lesson folder and PDF resources to your classroom. These contents can be added to BSD Online packages but you can also create a classroom and add just custom contents.
For the first example, we will create a new classroom and add custom content to it.
First, go to BSD Online, create and rename the classroom. Refer to the animation below for the steps.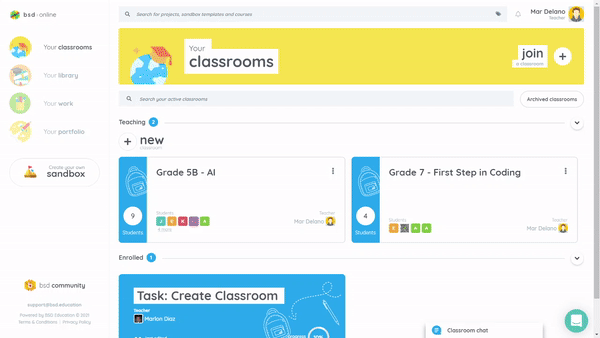 Now let's add a course to your classroom. For this demonstration, let's add the First Step in Coding course from TechNovators. Please refer to the following animation for the steps:
Once added, you will notice that the package contains an instructor guide and 6 projects. Now let's add some custom content to the classroom.
Let's start with the Info step. Follow the animation below as a guide: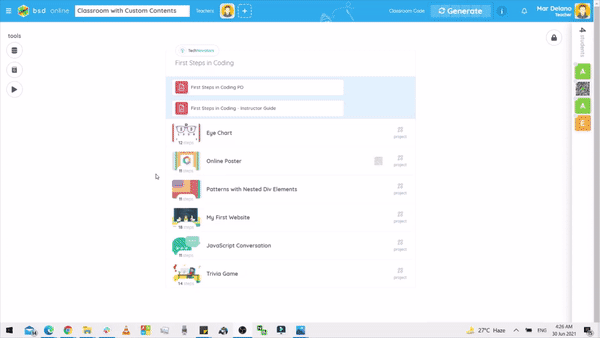 In the above animation, you can see that I was able to add some information and images to the Info step. There are also text formatting options that you can use. This custom content can be used to add articles for your students to read. Now let's move the Info step as the first item on the list so that the students will see it first before the project. You can do it by dragging the item and dropping it at the top of the list. See the animation below for reference:
Moving on, let's add a video step! Using this step, you can add a video from sites like YouTube and Vimeo. Watch the following animation to see how it is done: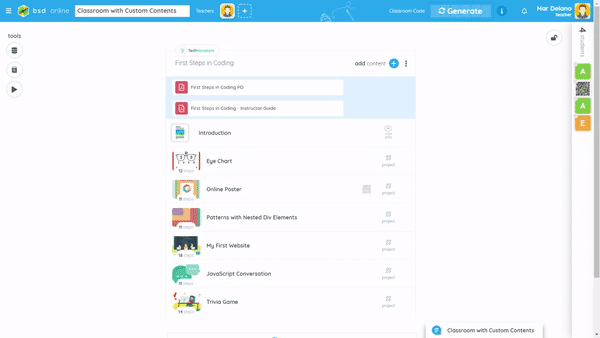 In the above animation, you will see that we added a Video step. We added a title, description, and link to the video. Now, let us place the video after the Info step so the students will see it after viewing the Info step.
Now, let's add a quiz to the classroom! You can use this custom step to test your students after each project. See how it is added in the following animation: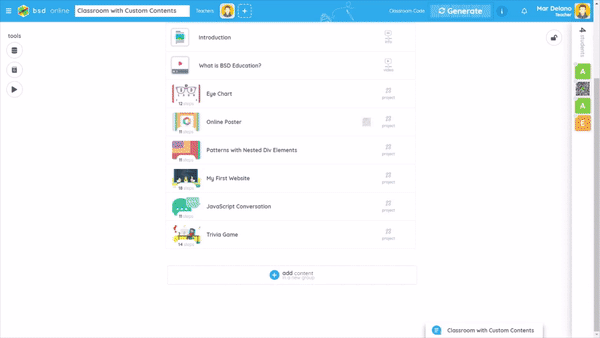 I showed you in the above animation how you can add a quiz to the classroom. You can also add context to questions. I just added images to make it look good when students are viewing them but you can also add text contexts and links to your quiz.
Now, let's add some sandbox templates! You can add a sandbox from BSD Online or add one from your portfolio. See an example below: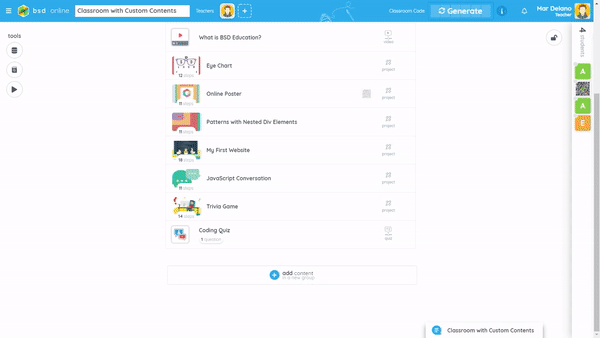 I have added Info Step, Video Step, Quiz Step, and Sandbox to our classroom!. Let's look at the classroom from the student's view. Here's a quick tour of the classroom: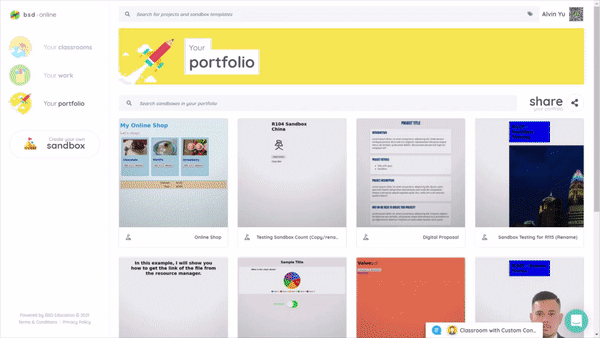 For the last two custom contents, we will create another classroom to show you how easy it is to create custom lessons.
First, let's create a new group with a new folder. I have already created a classroom and added some students to it. You can follow the animation below to know how you can add a new group with a folder in it.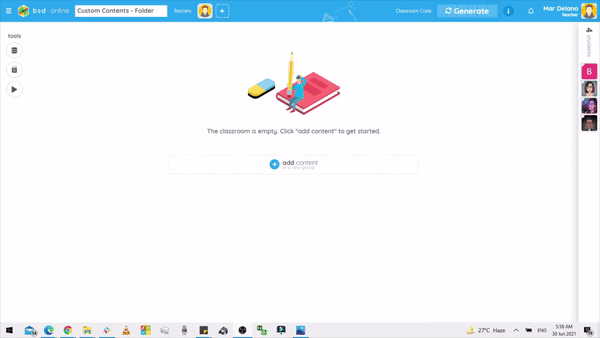 Next, we will add a teacher-only resource. Using this, you can upload PDF notes that only you or a co-teacher can view. See the guide below: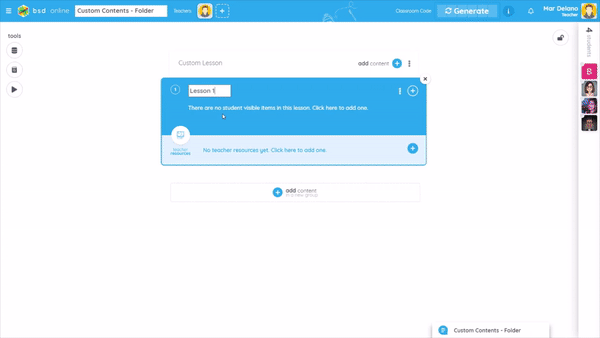 In the above video, I have shown you how to use lesson folders. I created a lesson folder in the video but you can add multiple folders if needed.
Now on the next three animations, I will show you how you can upload more content:




To learn more about the support for classroom customization you can also read the following posts:
Have questions about BSD Online features? Chat with us or send us an email through support.bsd.education.